About Me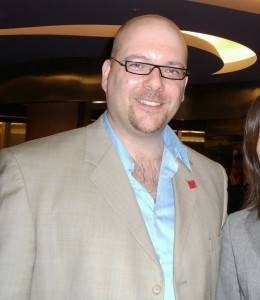 My name is John Quarto-vonTivadar. Together with my partners Bryan & Jeffrey Eisenberg, I invented Persuasion Architecture, a framework for persuading people to take the action you want, which is currently in wide use on the internet and a bevy of other marketing mediums.
I was Chief Scientist and Chief Thinking Officer at our firm, FutureNow, for over a decade. We took the company public a few years ago and today that company is independently run using software based directly on our original ideas. Several other companies have done the same.
Bryan, Jeffrey, and I continue to work together, and have begun work on our new startup (sshh! 2012!), which we're developing in Ruby on Rails, as we've done so many other times when creating software tools created to support our business ideas.
I'm currently active with a select few companies generating new ideas for them to improve or innovate with and guiding them in the right direction towards implementation. We also on a select case-by-case basis help companies large and small optimize their marketing efforts online, increase conversion, and back up those efforts up with hard, evidence-based facts through hypothesis-testing and experimentation.
In 2008 my fourth book, "Always Be Testing", which Bryan and I wrote together, became a best-seller and  brought actionable, scientific testing techniques described in plain English to the hands of ordinary marketers and business owners. We've helped literally hundreds of companies over the past dozen years and I know we can do the same for you, both in an advisory as well as partnering role.
I've also been a featured speaker at dozens of marketing, conversion, persuasion, analytics, and technology conferences. In fact, that picture of me to the left is from a keynote I gave at a conference in Tokyo, Japan. (Fortunately, they allowed me to speak in English, a welcome respite after a 14 hour flight!).
Perhaps because of my previous careers first as a scientist at NASA and later as a commodities trader in Chicago (funny coat and all), I have a particular knack for explaining complicated things in a way that ordinary people can understand and benefit from. Though I do find it somewhat ironic that I cannot explain why I'm able to explain so well!  If you feel you'd like to engage me to speak at your upcoming event, contact me privately (speakjohnspeak – at – johnquarto.com). I may be able to accommodate you by presenting in English, French, German or Italian, depending on the topic, your level of translation support, and your audience's proclivity towards giggling. I'm also available if you need guidance in getting your technology projects off the ground.
Personally, I'm an avid swing dancer, political junkie, foodie, history buff, and deep-thinker. Talk to me privately if you'd like to learn more on those fronts.